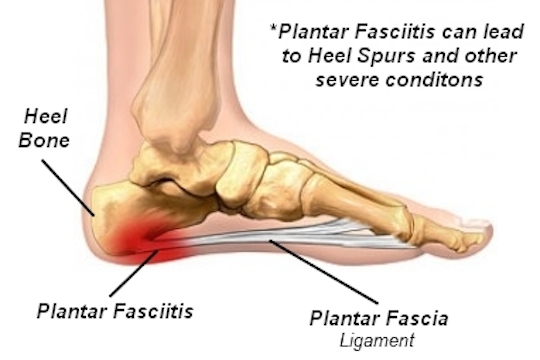 Overview
Plantar fasciitis is one of the most common explanations of heel pain. It is caused by inflammation to the thick band that connects the toes to the heel bone, called the plantar fascia, which runs across the bottom of your foot. The condition is most commonly seen in runners, pregnant women, overweight people, and individuals who wear inadequately supporting shoes. Plantar fasciitis typically affects people between the ages of 40 and 70.
Causes
Plantar fasciitis is the most common cause of heel pain, accounting for around four out of five cases. Plantar fasciitis is when the thick band of tissue that connects the heel bone with the rest of the foot (the plantar fascia) becomes damaged and thickened. Damage to the plantar fascia is thought to occur following sudden damage, for example, damaging your heel while jogging, running or dancing; this type of damage usually affects younger people who are physically active, gradual wear and tear of the tissues that make up the plantar fascia - this usually affects adults who are 40 years of age or over. You are at an increased risk of gradual wear and tear damaging your plantar fasciitis if you are overweight or obese, if you have a body mass index (BMI) of 30 or over, you are considered to be obese, have a job that involves spending long periods of time standing, wear flat-soled shoes, such as sandals or flip flops. Less common causes of heel pain are a stress fracture. A stress fracture can occur if your heel bone is damaged during an injury. Fat pad atrophy. Fat pad atrophy is where the layer of fat that lies under the heel bone, known as the fat pad, starts to waste away due to too much strain being placed on the pad. Women who wear high-heeled shoes for many years have an increased risk of developing fat pad atrophy. Bursitis. Bursitis is inflammation of one or more bursa (small fluid-filled sacs under the skin, usually found over the joints and between tendons and bones). It's possible to develop bursitis anywhere inside the body, not just in the foot. Tarsal tunnel syndrome. The nerves in the sole of your foot pass through a small tunnel on the inside of the ankle joint, known as the tarsal tunnel. If a cyst forms or the tunnel is damaged, the nerves can become compressed (squashed). This can cause pain anywhere along the nerve, including beneath your heel. Sever's disease. Sever's disease is a common cause of heel pain in children. It's caused by the muscles and tendons of the hamstrings and calves stretching and tightening in response to growth spurts. The stretching of the calf muscle pulls on the Achilles tendon. This pulls on the growing area of bone at the back of the heel (growth plate), causing pain in the heel. The pain is further aggravated by activities such as football and gymnastics. The pain often develops at the side of the heel, but can also be felt under the heel. Calf and hamstring stretches and, if necessary, heel pads are usually effective treatments for Sever's disease. Bone spurs. Bone spurs are an excess growth of bone that forms on a normal bone. Bone spurs can develop on the heel (a heel spur) and are more common in people with heel pain. However, they can also occur in people without heel pain. A heel spur does not cause heel pain.
Symptoms
The most common symptoms of plantar fasciitis include pain on the bottom of the foot near the heel, pain with the first few steps after getting out of bed in the morning, or after a long period of rest, such as after a long car ride. The pain subsides after a few minutes of walking. Greater pain after (not during) exercise or activity.
Diagnosis
During the physical exam, your doctor checks for points of tenderness in your foot. The location of your pain can help determine its cause. Usually no tests are necessary. The diagnosis is made based on the history and physical examination. Occasionally your doctor may suggest an X-ray or magnetic resonance imaging (MRI) to make sure your pain isn't being caused by another problem, such as a stress fracture or a pinched nerve. Sometimes an X-ray shows a spur of bone projecting forward from the heel bone. In the past, these bone spurs were often blamed for heel pain and removed surgically. But many people who have bone spurs on their heels have no heel pain.
Non Surgical Treatment
Shoe therapy, finding and wearing shoes that allow your feet to be in their natural position, is the most important treatment for plantar fasciosis. Shoes that possess a flat heel, are wide in the toe box, lack toe spring, and have flexible soles are most appropriate for this foot problem. An increasing number of shoe companies are producing shoes with these design characteristics, but shoes that include all these features are still difficult to find. For some suggested footwear models, see our clinic's shoe list. Most conventional footwear can be modified by stretching the shoe's upper, stretching out the toe spring, removing the shoe's liner, and cutting the shoe at certain key points to allow more room for your foot. Visit your podiatrist to help you with these shoe modifications. Correct Toes is another helpful conservative treatment method for plantar fasciosis. Correct Toes addresses the root cause of your plantar fasciosis by properly aligning your big toe and reducing the tension created by your abductor hallucis longus on the blood vessels that feed and "cleanse" the tissues of your plantar fascia. Your plantar fasciosis-related pain will diminish when the dead tissue is washed away. A rehabilitation program, which includes targeted stretches and other exercises, for your foot may be helpful too. Dietary changes and aerobic exercise are particularly important for overweight individuals who have plantar fasciosis. Water aerobics may be most appropriate for those individuals whose pain does not allow them to walk or cycle. Physical therapy may be another helpful treatment modality for this problem, and includes ultrasound, electrical stimulation, contrast baths, and range-of-motion exercises. Massage, acupuncture, reflexology, and magnet therapy are holistic approaches that may be helpful.
Surgical Treatment
Most studies indicate that 95% of those afflicted with plantar fasciitis are able to relieve their heel pain with nonsurgical treatments. If you are one of the few people whose symptoms don't improve with other treatments, your doctor may recommend plantar fascia release surgery. Plantar fascia release involves cutting part of the plantar fascia ligament in order to release the tension and relieve the inflammation of the ligament. Overall, the success rate of surgical release is 70 to 90 percent in patients with plantar fasciitis. While the success rate is very high following surgery, one should be aware that there is often a prolonged postoperative period of discomfort similar to the discomfort experienced prior to surgery. This pain usually will abate within 2-3 months. One should always be sure to understand all the risks associated with any surgery they are considering.
Prevention
You can help to prevent plantar fasciitis by maintaining a healthy weight, by warming up before participating in sports and by wearing shoes that support the arch and cushion the heel. In people who are prone to episodes of plantar fasciitis, exercises that stretch the heel cord (known as the Achilles tendon) and the plantar fascia may help to prevent plantar fasciitis from returning. Ice massage also can be used on the bottom of the foot after stressful athletic activities. It is possible that strict control of blood sugar will prevent plantar fasciitis in people with diabetes, although this has not been proven.