Overview
Your plantar fascia ligament helps the bones of your foot absorb gait-related shock. It also holds your toes firmly on the ground as your body passes over your foot. Plantar fasciosis can manifest in people who possess either flat feet or feet with high arches, and it most commonly causes pain or discomfort at the point where your plantar fascia attaches to your calcaneus, or heel bone. Plantar fasciosis, sometimes known as calcaneal spur syndrome or calcaneal enthesopathy, can involve stretching, tearing, and degeneration of your plantar fascia at its attachment site. In some cases, heel pain at this attachment site may be caused by other health problems, including certain types of arthritis. Your physician may run several tests to help determine the true cause of your plantar fascia pain and the most effective treatment methods to resolve your complaint.
Causes
The plantar fascia can also become aggravated by repetitive activity. If you increase the number of times the heel hits the ground, that can cause plantar fasciitis, a number of people develop problems when their feet are unaccustomed to hard tile or wood floors. Other risk factors for plantar fasciitis include obesity, an extra high or low foot arch, and activities like running.
Symptoms
Plantar fasciitis commonly causes a stabbing pain in the heel of the foot, which is worse during the first few steps of the day after awakening. As you continue to walk on the affected foot, the pain gradually lessens. Usually, only one foot is affected, but it can occur in both feet simultaneously.
Diagnosis
Your doctor may look at your feet and watch the way you stand, walk and exercise. He can also ask you questions about your health history, including illnesses and injuries that you had in your past. The symptoms you have such as the pain location or when does your foot hurts most. Your activity routine such as your job, exercise habits and physical activities preformed. Your doctor may decide to use an X-ray of your foot to detect bones problems. MRI or ultrasound can also be used as further investigation of the foot condition.
Non Surgical Treatment
The good news is that plantar fasciitis is reversible and very successfully treated. About 90 percent of people with plantar fasciitis improve significantly within two months of initial treatment. If your plantar fasciitis continues after a few months of conservative treatment, your doctor may inject your heel with steroidal anti-inflammatory medications (corticosteroid). Cortisone injections have been shown to have short-term benefits but they actually retard your progress in the medium to long-term, which usually means that you will suffer recurrent bouts for longer. Due to poor foot biomechanics being the primary cause of your plantar fasciitis it is vital to thoroughly assess and correct your foot and leg biomechanics to prevent future plantar fasciitis episodes or the development of a heel spur. Your physiotherapist is an expert in foot assessment and its dynamic biomechanical correction. They may recommend that you seek the advice of a podiatrist, who is an expert in the prescription on passive foot devices such as orthotics.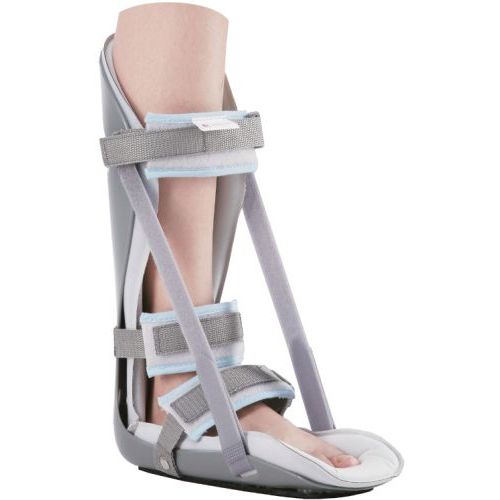 Surgical Treatment
The most common surgical procedure for plantar fasciitis is plantar fascia release. It involves surgical removal of a part from the plantar fascia ligament which will relieve the inflammation and reduce the tension. Plantar fascia release is either an open surgery or endoscopic surgery (insertion of special surgical instruments through small incisions). While both methods are performed under local anesthesia the open procedure may take more time to recover. Other surgical procedures can be used as well but they are rarely an option. Complications of plantar fasciitis surgery are rare but they are not impossible. All types of plantar fasciitis surgery pose a risk of infection, nerve damage, and anesthesia related complications including systemic toxicity, and persistence or worsening of heel pain.
Stretching Exercises
Exercises designed to stretch both your calf muscles and your plantar fascia (the band of tissue that runs under the sole of your foot) should help relieve pain and improve flexibility in the affected foot. A number of stretching exercises are described below. It's usually recommended that you do the exercises on both legs, even if only one of your heels is affected by pain. This will improve your balance and stability, and help relieve heel pain. Towel stretches. Keep a long towel beside your bed. Before you get out of bed in the morning, loop the towel around your foot and use it to pull your toes towards your body, while keeping your knee straight. Repeat three times on each foot. Wall stretches. Place both hands on a wall at shoulder height, with one of your feet in front of the other. The front foot should be about 30cm (12 inches) away from the wall. With your front knee bent and your back leg straight, lean towards the wall until you feel a tightening in the calf muscles of your back leg. Then relax. Repeat this exercise 10 times before switching legs and repeating the cycle. You should practise wall stretches twice a day. Stair stretches. Stand on a step of your stairs facing upstairs, using your banister for support. Your feet should be slightly apart, with your heels hanging off the back of the step. Lower your heels until you feel a tightening in your calves. Hold this position for about 40 seconds, before raising your heels back to the starting position. Repeat this procedure six times, at least twice a day. Chair stretches. Sit on a chair, with your knees bent at right angles. Turn your feet sideways so your heels are touching and your toes are pointing in opposite directions. Lift the toes of the affected foot upwards, while keeping the heel firmly on the floor. You should feel your calf muscles and Achilles tendon (the band of tissue that connects your heel bone to your calf muscle) tighten. Hold this position for several seconds and then relax. Repeat this procedure 10 times, five to six times a day. Dynamic stretches. While seated, roll the arch of your foot (the curved bottom part of the foot between your toes and heel) over a round object, such as a rolling pin, tennis ball or drinks can. Some people find that using a chilled can from their fridge has the added benefit of helping to relieve pain. Move your foot and ankle in all directions over the object for several minutes. Repeat the exercise twice a day.